CPR Classes South Florida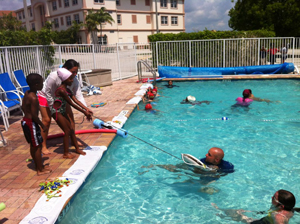 CPR can save someone's life and being prepared for an emergency with CPR certification is simple as courses are accessible throughout South Florida. When searching for a CPR class provider first consider which level of certification you require. There are three basic levels, which consist of community CPR classes (personal certification), American Heart Association Heart saver CPR, Red Cross for non healthcare professions (security guards, day care workers, babysitters, etc.) and Healthcare Providers requiring BLS, ACLS or PALS. Once you understand which level of CPR training you require you can narrow down your search and choose the CPR class that suits your needs.
Anyone can become CPR certified for emergency preparation by contacting the American Heart Association (www.americanheart.org) or local American Red Cross Chapter (www.redcross.org.). People are often surprised to know that many local fire departments offer this course as well. There are also further community CPR classes available for group or private lessons such as those provided by certified swim instructor Julie Gross of Swim With Mr. Blue. She teaches lessons throughout Florida including Fort Lauderdale, Coral Springs, Margate, Boca Raton, Weston, Miami, Hollywood, Hallandale, Parkland, Delray Beach and Plantation Florida. Lessons are offered the first Monday of each month and for lesson locations Julie can be reached by phone by calling 954- 956-9965.
CPR techniques have been used to save lives since the 19th century and have been included in the Boy Scout Handbook since 1911. The CPR technique that we know and use today originated in development from Johns Hopkins University of Baltimore, Maryland. CPR can save someone's life by restoring their breathing and heartbeat until medical professionals arrive. By performing mouth-to-mouth breathing and chest compressions as needed a persons chance for survival increases and damage to the brain from lack of oxygen can be prevented. Be prepared for that in case of emergency situation by learning adult, child and infant CPR. You could save a life.
For more information about CPR classes South Florida visit www.swimwithmrblue.com.
View Our Swim Articles