Infant Swim Lessons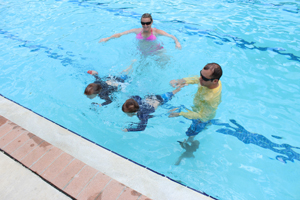 Infant swim lessons can increase a baby's survival in the event of an accidental fall into a pool, lake or other water area. We often allow ourselves to think that unfortunate events will never happen to our children. We think we have all of the precautionary measures set in place but life brings about unexpected events that astonish us and take our breath away. This year their have already been multiple cases of infant and toddler drowning. A one-year-old baby girl fell into her family's swimming pool in Doral Florida and lost her young life, while a boy just 19 months of age was rescued from a near drowning at a community lake. His life was saved when a neighbor took action and performed CPR that she had learned in flight attendant training.
Infant swim lessons can teach a child what to expect in the water. They learn how to react when their faces become wet. The learned response is to close the mouth and open the eyes. Infants as young as six months can learn to hold their breath and rotate themselves to a face up floating position with the help of certified swim instructors such as Julie Gross. Infant swim classes are not intended to teach them to swim as an elementary school aged child would. Infants six months to 16 month learn the basics and learn confidence in the water. Removing the fear associated with water, building self-confidence and learning age appropriate swimming skills build a strong foundation for children to become super swimmers.
Julie Gross and her team of certified swim instructors teach infant, child and adult swimming lessons along with water safety including CPR and first aid. They have experienced first hand swimming success in children of all ages with the help of their kid friendly technique and child safety commitment. Their goal is to teach kids to swim safely and successfully in the water and it's never too soon to start.
For more information about infant swim lessons visit www.swimwithmrblue.com.
View Our Swim Articles