Safe Kids Swimming Wear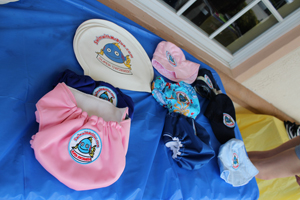 The temperature is rising and summer grows near its time to think swimwear. Children are already talking about the pool, beach and summer vacation and parents are thinking about safety. With the dangers of drowning, sun burns and heat illness choosing proper kids swimwear can help. Babies are the most susceptible to sunburns as the younger a child is the thinner the skin is. An infant can burn in just 10 minutes to sun exposure. They are also more at risk for Melanoma the most dangerous form of skin cancer. Babies six months of age should be kept out of the sun. Ask a pediatrician before applying sunscreen to an infant under six months of age. Waterproof sunscreen is best and should have a protection factor of SPF 15 or higher.
Babies should also wear a wide brimmed sun hat to protect the face, scalp, neck, etc. Their eyes also require protection as the UV rays can harm the eyes leading to cataracts and other eye illness. There are big improvements in infant swimwear with swim diapers or swim nappies as they are called. These keep baby from leaving accidents in the pool or other water source. Babies also have the opportunity to wear sun protective suits and swimwear that offers a tighter nit and should express a UPF rating of 15 or higher for protection. The best protection is sunscreen and keeping baby in the shade. One last note for baby swimwear protection is to not depend on the float suits to prevent drowning. Adult supervision and age appropriate swim lessons are the best methods for drowning prevention.
Older children can benefit from the same SPF/ UPF protective swimwear as well as sun suits that offer longer sleeves and legs to protect the skin. Teaching kids to slip, slop and slap will also keep them safe while in the sun and water. They should slip on a t-shirt over their swimsuit to protect from the suns harmful rays, slop on sunscreen 15-30 minutes prior to going outside and reapply every hour to two hours after playing in the water and slap on a hat to protect the scalp which can burn easily. By covering as much skin as possible a child reduces their risk of sunburn. Studies now show that six episodes of serious sunburn before the age of 18 doubles a person's risk of developing skin cancer as an adult.
Sun protective swim wear, swim diapers and sun suits can be purchased at local swim shops, the shopping mall and online. There are a variety of colors, prints and styles to choose from. When choosing swimwear for kids are sure that the suit offers sun protection, fits properly and provides comfort and safe movement in the water. After swimming children should change out of wet clothing after swimming as wet swimwear loses some of its UV protection. Safety is key to fun and good health and protective kids swimwear can help provide safer swimming.
For more information about kids swimming wear visit www.swimwithmrblue.com.
View Our Swim Articles