Swimming Lessons For Kids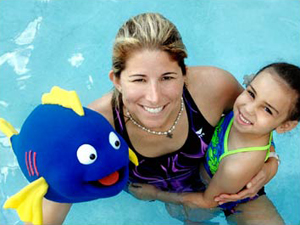 Giving your child or grandchild the gift of swimming lessons is the gift of safety and health. Swimming can be an excellent form of exercise, a self-esteem builder and provide an opportunity for social growth. When choosing swim lessons for kids keep the following in mind:
Swim lessons should be age appropriate to ensure children are able to learn swim techniques that meet their personal skill level.
Be sure that a CPR certified swim instructor gives swim lessons with experience teaching children.
Choose a comfortable pool environment either at a home pool or instructor pool.
Ask about the benefits of private lessons compared to group lessons.
The Swim With Mr. Blue crew combines child friendly learning techniques such as songs, a swim safety children's book, DVD and professional in pool swimming lessons. The lessons are provided by both male and female certified swim instructors including Swim With Mr. Blue author Julie Gross, Mr. Mark, and Mr. Will and Ms. Hannah. Swim lessons are provided in a unique five day program that Julie Gross says can teach anyone to swim.
Julie Gross and her team of certified swim instructors understand the importance of swim lessons for kids. It is a step towards drowning prevention and can help save a child's life. Drowning is a serious problem throughout the United States with Florida leading the nation with the highest infant/child drowning rate. Through preventive measures including pool barriers, adult supervision, CPR certification and swim lessons for kids drowning can be prevented.
For more information about swimming lessons for kids visit www.swimwithmrblue.com.
View Our Swim Articles